THE ABBEY OF SAN GIULIANO GENOA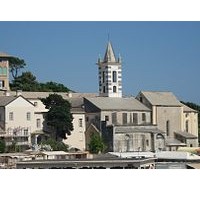 The Abbey of San Giuliano is an ancient abbey complex of the Genoese quarter of Albaro, adjacent to corso Italia.
Until the beginning of the twentieth century, when the coastal road had not yet been opened, it appeared in a dominant position on the rocks and was only reachable from the top of the narrow crêuze hill between the numerous patrician villas that existed there.
At the Abbey he dedicated poetry (In San Giuliano's Abbey, 1907) the poet Guido Gozzano.

The complex, which now appears in its fifteenth-century appearance, in Romanesque-Gothic style, is made up of the convent, the church and a small cloister.
The church, with the entrance to the east, stands on the sea side at the convent.
The white and black striped bell tower ends with a pyramidal cusp and four pinnacles at the corners.
A remarkable black stone portal, a work of the 16th century, according to some from the abandoned abbey of San Benigno, near the Lantern.

The inner nave has four side chapels.
There is a wooden crucifix in the Maragliano school and a marble wrap, which is the first chapel on the left, with reliefs from the XV and XVI century.
There is also a window of frescoes depicting the Virgin and Saints in the apse of the apse, attributed to the school of painters Lorenzo and Bernardino Fasolo.
The massive walnut choir comes from the old church of San Teodoro, demolished for port expansion and new road around 1870 and reconstructed not far away.
source wikipedia
The beautiful abbey will become home of the Ligurian songwriters in Genoa, already allocated funds from the Ministry of Cultural Heritage.

THE ABBEY OF SAN GIULIANO GENOA
Informazioni article by:
NETWORK PORTALI, Pisa